ROGER WILLIAMS INN
EST. 1930

Restoration Plan

After 80 years, Roger Williams Inn's once beautiful exterior had visibly deteriorated and its interior needed renovation. Restoration from roof to basement is creating 76 bright rooms, almost all with a spectacular lake view. Re-glazing the lobby, re-opening the Veranda and creating an outdoor cafe and lakeside walking paths will transform the social lakeside experience. Following the complete interior renovation and re-roofing of Pillsbury Hall in 2011-12, the RWI renovation is being engaged in several phases.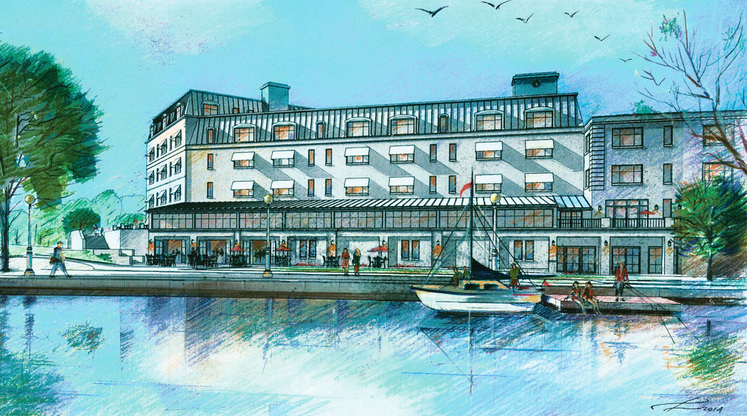 The terrace in the 1930s. Today much of the glazing you see here is now gone and the terrace windows and doors are bricked in.

---
Design Phase
The design phase
for the RWI renovation (including Pillsbury Hall and Lakeview) is being led by Robert Staricka, Architect, the Green Lake staff team, JJC Interiors (Jo Stanley), DeWitt Designs (Sarah & Jim DeWitt), and a wide variety of American Baptists sharing memories of RWI.
In 2013 and 2014, the following elements were completed:
As built documentation and base plan preparation (AutoCAD) for lobby level and lower level
Master plan analysis and narrative engaging the issues of how RWI flows and functions inside, and outside in relationship to the lake and the main GLCC campus area
Schematic master plan drawings and renderings for lobby level and lower level/old pool area
Exterior Renovation
Roof repairs
2013: New roofs installed on RWI Penthouse level, the two three-story end towers and on adjoining Worldwide Gifts.
2013-15: New shingles installed on 4th floor "mansard roof," including steel flashing to end vertical water penetration into the walls below.
Exterior masonry repairs
2013: Engineering and masonry studies were completed to create the plan and specifications for the masonry repairs.
2014-15: Masonry repairs completed. White paint cleaned/touched up and cream trim repainted
2015-16: RWI terrace patio walls repaired.
2016: Exterior repainted.
2016: RWI terrace patio replaced using 1930s hand-scored joint technique. New handicap access from Memory Lane to the RWI terrace installed.


Hotel Room Renovation
2013: 3rd and 4th floor guest rooms ceilings repaired/replaced. Lighting replaced and walls repaired.
2014-16: 3rd and 4th floor sleeping rooms and hallways renovated, including replacing all 1980s wood paneling with drywall.
2017: 2nd floor sleeping rooms renovated.
Ground Floor and 1st Floor Plans
Lobby, Crystal and Veranda renovated 2016-17, including all new glazing and doors. New entry canopy.
Snackery, lower level bathrooms and pool area re-imagined.


Mechanical
2014: New hot water heating.
2017: Plumbing and HVAC engineering study.
Final Phase
Replace plumbing system and heating/AC mechanical systems.